Post by victor on Feb 13, 2012 5:05:18 GMT
I have made quite some headway with my Pompeii oven build, and I thought best to give you all an idea of how things are progressing.
Cost has been kept down with the use of reclaimed bricks and some terracotta tiles I had for the sole of the oven, these were laid on old red bricks.
I did splash out twenty five pounds on the old oak beam for the lintel, which I will leave exposed after the render coats.
The base slab is an extension of some existing concrete that was already down no rebar and just one skin of blocks to sides and back, adequate in my view given that the ground is solid (ex lorry park)
and the oven in it's self is not going to have a brick work enclosing it all.
Using old bricks has been tiresome with all the cleaning and sorting, they do have a slight frog to them but should be ok.
Once the dome is complete, I hope to use a 25mm layer of body soluble blanket for insulation and that will also to allow for some movement, before thermalite blocks are cut and laid to the shape of the dome.
Then final render coats are applied.
I am a very slow at typing so please do not expect quick fire answers, but I will do my best to answer any questions that may be asked.
To add I do have building trade experience and my brick work is fair with some talent in associated trades, some would call me a jobbing builder.
I like to think I am something of an artisan trying to preserve a variety traditional skills.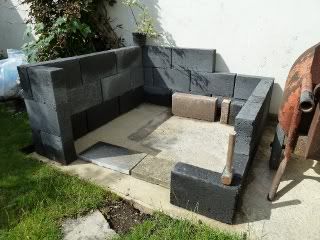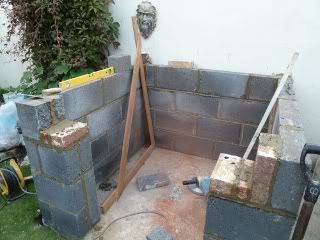 Blocks pre cut ready for laying and tarpaulin put up more to keep the sun off, than rain.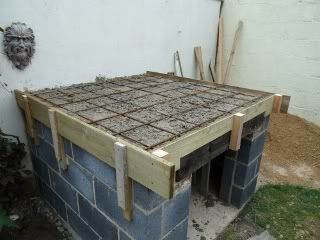 Shuttering in place with 10mm rebar cut to length half filled with concrete then rebar at 6" centres, then more concrete to finish with plenty of tapping on the shuttering to settle the concrete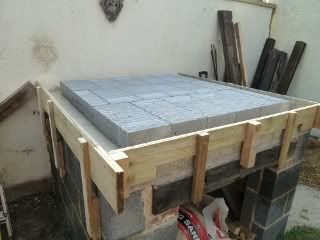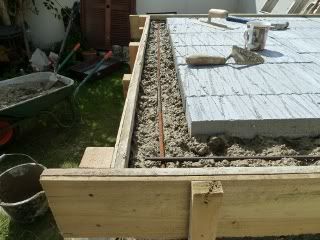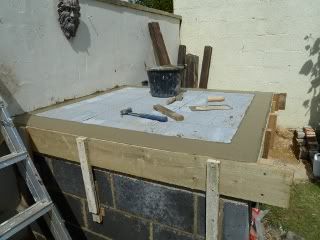 Thermalite blocks laid for insulation with a rebar and concrete ring
Next episode soon.
Vic